CEX.IO Review Is it Safe? Legit or Scam Exchange?
This CEX.IO review analyzes the main advantages and disadvantages of bitcoin trading in one of the biggest and most used cryptocurrency exchange websites
If you are considering buying bitcoin, this CEX.IO review is extremely insightful regarding the purchase process and requirements in one of the oldest bitcoin exchanges on the market.


Learn in this CEX.IO exchange review why this company is one of the biggest, and one of the best options to buy Bitcoin and Ethereum with credit card and bank transfer.
CEX.IO History and Overview
CEX.IO started its operations in 2013 operating as both a cloud mining company and as a bitcoin exchange service. In 2015, CEX.IO stopped its operating as a cloud mining provider (Ghash.io), and focused solely on its bitcoin trading service.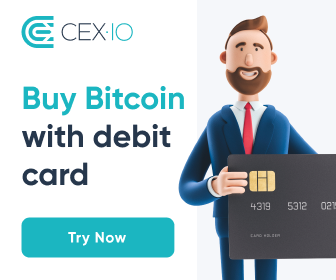 Now, CEX.IO is one of the best bitcoin exchange for users willing to buy bitcoins in most countries using Visa ad Mastercard credit cards. It is also possible to withdraw using a card in many countries.
Currently, CEX.IO is registered in the US with FinCEN, and has a high level of security in its transactions. It has a PCI DSS certificate and uses Two-Factor Authentication or Google Authenticator to ensure users' bitcoins and credentials are protected.
Now, let's analyse in this CEX.IO review the main points that every bitcoin exchange should have to attract more users.
CEX.IO Exchange Comparison Table
Let's compare the deposit options of CEX.IO with other major bitcoin and alt coins exchanges:
[table id=1 /]
CEX.IO – Payment Methods
Perhaps the most important aspect when choosing a bitcoin exchange is the payment methods they accept. You may be only able to pay with a specific type of payment option, and this can be crucial for choosing your exchange.
Currently CEX.IO accepts the following payment methods: Wire Transfer (most countries), SEPA Bank Transfer (SEPA countries), Online Bank Transfer (Austria, France, Germany, Italy and Spain).
Obviously, CEX.IO accept Visa and Mastercard as well as payment methods. Cards issued in most countries work with this payment method. Countries restricted for card payments: Afghanistan, Algeria, Bahrain, Iceland, Iraq, Kuwait, Lebanon, Libya, Oman, Pakistan, Palestine, Qatar, Saudi Arabia, Vietnam, Yemen.
Currently CEX.IO accepts the following currencies: USD, GBP, RUB and EUR.
Click here to check how to buy bitcoins on CEX.IO
CEX.IO – Fees
Fees are one of the most important things you should consider when choosing a bitcoin exchange. There are usually three types of fees: deposit, withdrawal, and transaction fees.
For US customers, the deposit fee at CEX.IO is of 3.5% + $0.25 with credit cards, and free for bank deposits. In the SEPA (Single European Payment Area), fees are similar, with 3.5% + €0.24.
Depositing by bank transfer is certainly cheaper, but may take longer. Withdrawing to a bank is more expensive is most cases. Check CEX.IO website for more details on their fee structure.
CEX.IO – Other Cryptocurrencies
Currently, you can also buy Ethereum at CEX.IO. Ethereum is the second crypto currency in terms of market cap. CEX.IO also used to offer Litecoin, but has currently stopped working with this digital currency, claiming it had a low trade volume.
Click here to buy Ethereum at CEX.IO.
CEX.IO – Verification
Verification is for me an essential point when buying bitcoin. If you are concern with identify theft, most bitcoin deposit methods should be considered carefully, not only in CEX.IO but in all exchanges.
Buying and withdrawing bitcoin with CEX.IO requires different degrees of verification. These degrees vary depending on the amount and the deposit / withdrawal method. Buying with credit card is one of the simplest ways to get bitcoin at CEX.IO however it still requires verification.
When you buy bitcoin with credit card at CEX.IO you will need to provide a selfie with your credit card. The detailed process is explained here on this link at the CEX.IO support section.
How to Open an Account at CEX.IO
Opening an account at CEX.IO is a simple process. However it is important to know you won't be able to buy Bitcoin or Ethereum at CEX.IO if you do not go through the verification process. If you already have cryptocurrencies you can send them to your CEX.IO wallet without doing the verification process.
Once you open the account, you can fund your account buying Bitcoin or Ethereum with credit / debit card, a bank account or Crypto Capital.
I believe using the card is the easiest way to fund your account, as the whole process is faster than using a bank account.
Click here to open an account at CEX.IO
CEX.IO – Support
One of the main points in this CEX.IO review is the efficiency when it comes to its customer support. Many clients complain about experiencing issues and delays when it is necessary to contact a human.
A downside in this sense is that CEX.IO does not have a telephone number on their website. This is not very comforting especially if you plan to invest big sums on bitcoin. However, tickets submitted to CEX.IO are quickly replied. It also has a community forum, where most questions are answered within minutes of the posting.
CEX.IO also has a live chat, usually at the bottom of every page it appears as a small box written "help". Every time I used it, the reply was quite fast.
CEX.IO Verdict – Legit or Scam?
As a reputable company registered in the UK and the US, CEX.IO is certainly not a scam. CEX.IO is a legit bitcoin exchange, and is operating in accordance to the regulations. However, it is important to check all the requirements to purchase bitcoin at CEX.IO.
Its important to verify before hand if you agree and are able to provide the documents required for their verification process. This will save you a lot of time and guarantee a smooth trading at CEX.IO.
Finally, from this CEX.IO review we can check that it does not have the best rates on the market, but its trading system is pretty good and effective. Make sure you calculate well and check the fees to avoid any misunderstanding while using CEX.IO.
CEX.IO – Alternatives
If you considering trading bitcoins but would like to check other alternatives, this list below is just what you need.
LocalBitcoins
LocalBitcoins is the largest peer to peer bitcoin trading website. In local bitcoins you buy and sell bitcoins to users from your country or region. This results in cheaper transaction fees in most cases. The disadvantage is that you can't use a credit card to buy on Localbitcoins.
Click here to check how to buy bitcoins at Localbitcoins
Coinbase
Coinbase is the largest bitcoin exchange in the world. It has a simple system to buy and sell bitcoins and you can also use a credit card, just like in CEX.IO. The disadvantage of Coinbase is that it is available for much less countries than CEX.IO.
Click here to check how to buy bitcoins at Coinbase
HitBTC
HitBTC is another exchange to be considered when you are looking for digital currencies. The biggest advantage of HitBTC is that it has a very wide range of cryptocurrencies to buy and trade. HitBTC offers the mainstream currrencies like Bitcoin, Ethereum and Litecoin, but also less known currencies with great potential for growth.
Click here to check how to buy digital currencies at HitBTC
Did you like this CEX.IO review? Have you used CEX.IO before? Leave a comment below telling your experience.